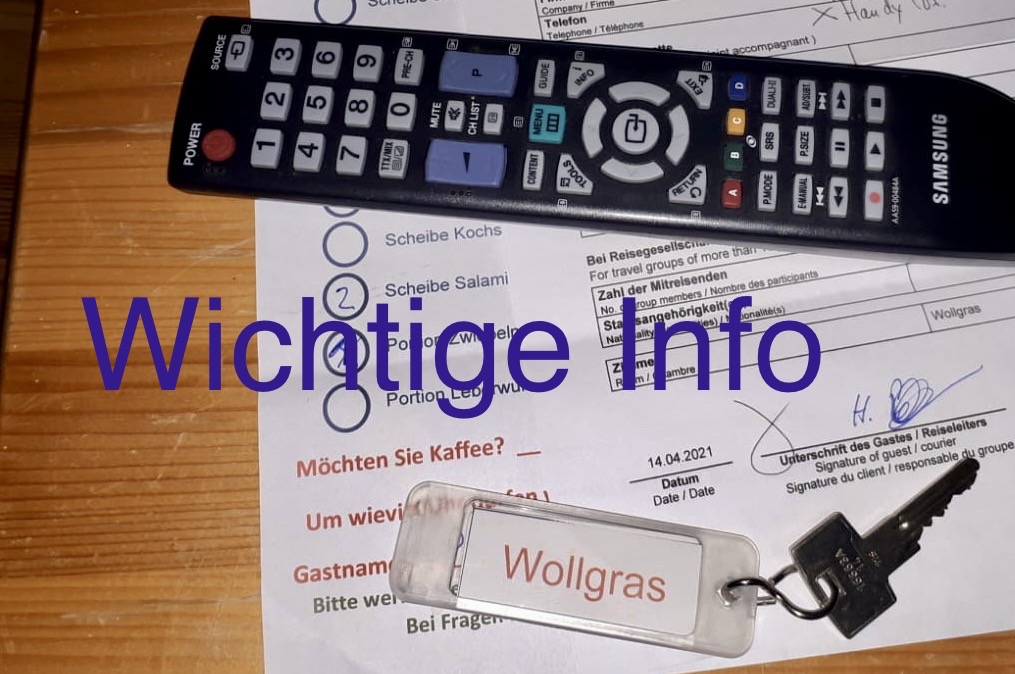 Dear guests ...
We, your hosts, the Schumacher family, are welcome very heartly!
We would like to offer you a pleasant, relaxing and nice stay in our
Schumacher's Landhaus.
So that you can find your way around our hotel,
we have some information in our service guidelines A-Z for you.
Do you have any more questions or requests?
We are happy to assist you with words and deeds.
We wish you a pleasant stay!
your family
Udo and Corinna Schumacher
Arrival
Please contact us by phone one day before arrival,
to discuss the arrival time and handover of the keys.
You can best reach us on Tel. 0049 170/81 33 912
Our reception is only open by prior arrangement.
Please consider the arrival address:
Schumacher's Landhaus
- House Waterkant - Margaretenstrasse 19, 26446 Friedeburg
- House Binneland - Katharinenstrasse 8, 26446 Friedeburg
Allergy sufferers
We would like to adapt to your wishes. Please give us information about
your allergies or intolerance to food and drinks already before arrival.

Baby cots / baby equipment
We have a travel cot, which we can provide for your baby free of charge.
Please give us information at time of reservation.

Bathroom stool
If you would like a bathroom stool, please contact us at the reception.
Beverages
The self-service tea & coffee bar is available free of charge.
Mineral water is available in your room at an affordable price.
In the refrigerator on the ground floor you will find some cold drinks
low price for self-service. Please pay for the drinks on departure at the
reception.
Please understand that these drinks are not allowed to take to the
restaurant at dining times (breakfast & dinner).

Blanket
You will find a woolen blanket in the wardrobe.
If you would like another duvet free of charge, please inform us.
Books
Our hotel is a book hotel. You will find over 8000 books to browse
and reading. You read into one, but you don't have it read out yet?
Simply contact us…. we have an idea for you!
Please don't just take books home with you!
Breakfast
Our hotel guests may have breakfast in the time between 6.30 a.m. to
11.00 a.m. It is served in the MOINSTUUV in our winter garden of the
house. A reservation is necessary.
Change of linen
The hotel towels are not for use outside the hotel.
There are plenty of towels in the bathroom. You will find more towels in
your cupboard in the room.
You like to get rid of dirty towels? There is a box in the hallway.
Do you need more towels - no problem -just let me know!
Children
In some rooms we can set up a cot.
Our "Fuchsbau" room even has its own children's bedroom next to the
master bedroom.
Children up to and including 6 years of age stay free of charge in their
parents' room.
Children up to and including 16 years pay € 16.00 per night in the
parents' room.
It is required to book in advance – because not in every room is space
enough for extrabeds.
Departure
The departure should take place by 11 a.m.
Please remember to hand over the room key at the reception.
Many Thanks.
Dog / pets
In some rooms you can bring a dog. It is required to book in advanced!
There is an extra charge of € 10 per night/pet. Please bring your own
basket or blanket.
Other pets than dogs are not allowed.
Do not disturb
Please hang the appropriate sign on the outer door if you
don't want to be disturbed.
Electrical connections
All sockets are equipped with 230 V / 50 Hz.
Housekeeping
Everyone is talking about sustainability.
We do without the daily housekeeping.
On request, we will of course take care of it and free of charge empty the
rubbish bin, vacuum or change the bedclothes or similar.
Hygiene products
You forgot your comb, toothbrush, razor, or any other hygiene item?
We have a small selection ready for you at reception.
Internet
The use of our WLAN is free of charge in the complete hotel.
You will find the access code on your desk in the hotel room.
Ironing board and iron
We provide it free of charge on request.
Ironing service
Unfortunately we do not offer.
Key
Your room is a so-called pass key! It doesn't just go with your
room door but also to all exterior doors. That is why it is so important to
take good care of the key - a replacement will unfortunately be expensive.
Please remember that you cannot enter the house without the room key!
In an emergency, please contact us on Tel. 0049 / 170/81 33 912.
Luggage service
We are happy to transport your luggage to your room or back to your car.
Please contact our reception. Of course you can also deposit luggage in
the case of a late departure.
Money and valuables
For insurance reasons, we ask you not to leave any valuables
Jewelry or sums of money lying openly in your room or vehicle.
We cannot take liability for lost valuables in your room.
Sorry - we don't have room safes.
Nail file
Located in your bathroom.
Office service
If you have something to print, copy, or scan, please contact the
reception.
Parking
A parking space is available for each hotel room free of charge.
Please note that both houses have their own parking place:
Rooms house Waterkant – Margaretenstrasse
Rooms house Binnenland – Katharinenstrasse
Payment
You pay us at the reception upon departure.
Cash payment, the use of an EC card and major credit cards
is possible.
Phone
Since nowadays all guests have a cell phone, we have
no phone in our rooms. At our reception you can make short phone calls
free of charge in case you have no cell phone.
Pillow
Would you like an additional pillow or a smaller one?
Please let the reception know.
Post office
You can find the post office in the SCORE petrol station on the large
crossing towards Sande / Wiesmoor.
Regular opening hours:
Monday to Friday 8 a.m. to 8 p.m.
Saturday 8:00 a.m. - 1:00 p.m.
Room service
Are you arriving very late or leaving early?
Upon request, we will set up a snack in the evening or upon request
a packed lunch to take away (extra charge)
Satisfaction
How did you like your stay with us?
We would be happy if you give us feedback or maybe even the
fill out the evaluation sheet.
Every comment helps us to further improve our services and adapt them
to our guests' wishes.
Sewing kitt
Button off? - You will find a small sewing case in your bathroom.
Shoe shine machine
There is a shoe shine machine on the ground floor.
Smoking
The whole place - including the hotel rooms – is non smoking.
In the garden and on the hotel room balcony or terrace it is permitted to
smoke. Please respect the other guests. Please use the provided ashtrays.
Please watch out for hot embers - risk of fire!
Taxi
In Friedeburg there is Taxi Nannen Telephone: 0049 / 4465 / 94 55 44.
Please order in advance and give the correct pick-up address
Margaretenstrasse 19 or Katharinenstrasse 8.
Wake up service
You would like to receive a wake-up service from us?
Please inform us on Tel. 0049 / 0170 / 81 33 912
We will be happy to knock on your door on time!
Window
Please close windows and balcony doors when you are out.
The pitched roof windows are to be closed, because it can rain in